The Body of Representatives election continues, and now we have the candidates – in total of 28 of them, from 5 different alliances. You can find them listed from down below.
The voting will be open during 1.-8.11.2023, and it happens through a link that you'll get in to your email as an OSAKO member. Read more about the voting from here.
Have an exciting election week!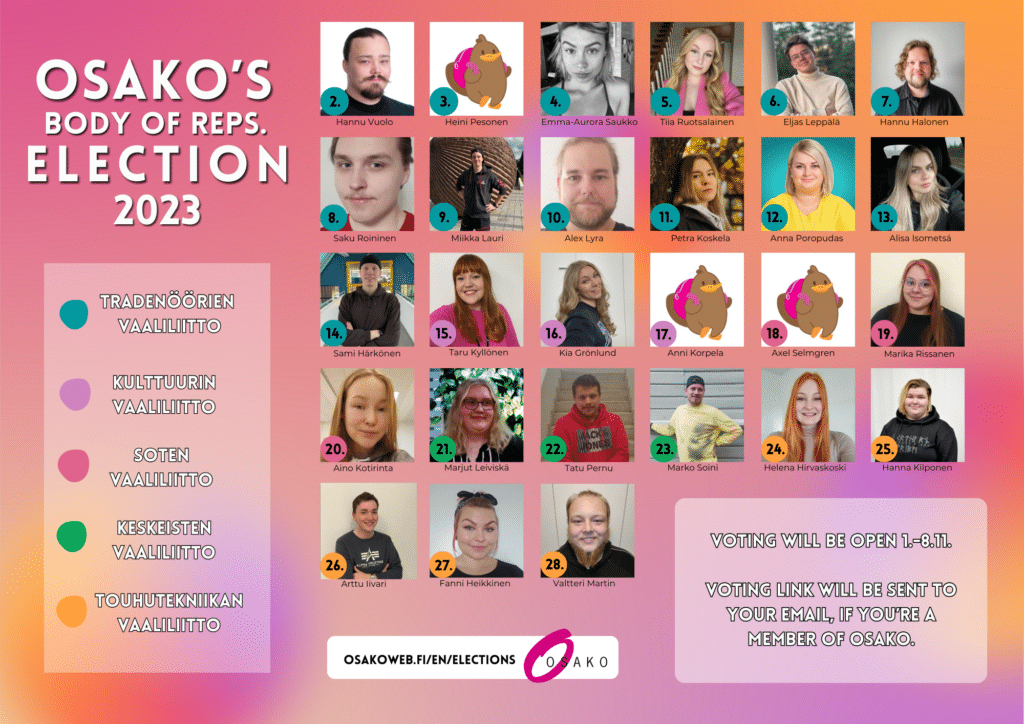 BUSINESS AND ENGINEERING STUDENTS
2. Hannu Vuolo
3. Heini Pesonen
4. Emma-Aurora Saukko
5. Tiia Ruotsalainen
6. Eljas Leppälä
7. Hannu Halonen
8. Saku Roininen
9. Miikka Lauri
10. Alex Lyra
11. Petra Koskela
12. Anna Poropudas
13. Alisa Isometsä
14. Sami Härkönen
CULTURE STUDENTS
15. Taru Kyllönen
16. Kia Grönlund
17. Anni Korpela
SOCIAL AND HEALTH CARE STUDENTS
18. Axel Selmgren
19. Marika Rissanen
20. Aino Kotirinta
KESKEISTEN VAALILIITTO
21. Marjut Leiviskä
22. Tatu Pernu
23. Marko Soini
ENGINEERING STUDENTS
24. Helena Hirvaskoski
25. Hanna Kilponen
26. Arttu Iivari
27. Fanni Heikkinen
28. Valtteri Martin